IKEA ger sig in i bilbranschen. Eller..?
Samtidigt som Volvo och Saab kämpar för sin överlevnad meddelar IKEA att företaget tänker lansera en miljöbil, LEKO – den första bilen med officiell WWF-certifiering. Lanseringen har läckt ut i bloggosfären. Bl.a. skriver Scott Goodson, grundare av Strawberry Frog, att lanseringen kommer att bli en "…earthquake in the world in a couple of weeks".
Klicka på bilden nedan och se lanseringssajten (på franska). Där finns också en klocka som räknar ner till lanseringen.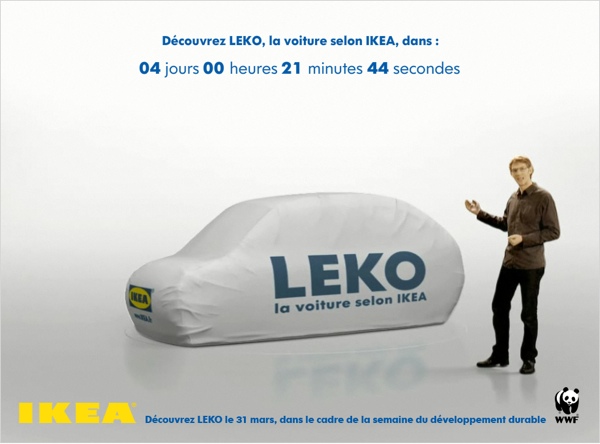 Det spekuleras på bloggar och i media om det är ett aprilskämt, ett slag för ökad samåkning eller om det faktiskt kan vara sant. Den 31 mars – farligt nära den 1 april – får vi svaret.
Vad tror du?
(Noterat: I kommentarerna till mitt blogginlägg den 20 februari skriver Buster att han "har hört från två olika källor att IKEA finns bland dem som har hört sig för… vore spännande om det ledde till något", angående vem som kan tänkas vilja köpa Saab.)