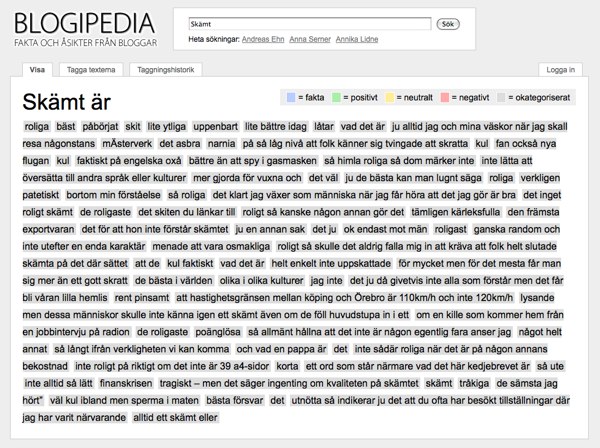 Det finns ett skäl till varför jag har valt just den rubriken på det här inlägget: Micco Grönholm är inte på Blogipedia. Men innan jag avslöjar vilket, låt mig först berätta vad Blogipedia är.
Blogipedia är en webbsajt som samlar och presenterar fakta och åsikter från svenska bloggar. Om en bloggare skriver att [något/någon] ÄR [något] dyker den frasen eller meningen upp på Blogipedia ett par dagar senare. Varje fras kan därefter värderas av Blogipedias medlemmar som antingen fakta eller en positiv, negativ alternativt neutral åsikt.
Idén och webbsajten är Ted Valentins, en webbinnovatör som bl.a. utvecklat en samling smarta karttjänster och som var initiativtagare till 24 hour business camp.
Naturligtvis har jag gjort en sökning på vad det står om mig på Blogipedia. Söker jag på Micco Grönholm är det tomt. Likaså om jag söker på The Brand-Man. (Om jag däremot söker på enbart Micco, får jag reda på att jag är "duktig på branding – håll koll på hans blogg" och "inte uppkopplad", vilket f.ö. sökmotororaklet Nikke Lindqvist heller inte verkar vara.)
Jag tror att det finns två skäl till varför jag inte hittar mig själv under vare sig "Micco Grönholm" eller "The Brand-Man". Det första är så klart att jag inte har nämnts särskilt ofta på andra bloggar – vilket är både förståeligt och helt okay. Det andra skälet är, enligt mig, något allvarligare eftersom det hänger samman med hur vi använder språket. På svenska är det nämligen inte lika naturligt som på t.ex. engelska att presentera personer enligt formeln [förnamn efternamn] är [någonting]. Min högst oventenskapliga kartläggning av personpresentationer på bloggar stärker mig i min uppfattning att vi använder Blogipedia-formeln oftast tillsammans med enbart förnamn, och då efter det att den mer sakliga och formella presentationen är avklarad (vilken vi f.ö. tenderar att skriva som en bisats), samt när vi vill utdela våra högst personliga åsikter och ömdömen om någon eller något. Ett konkret exempel är presentationen av Mindparks bloggteam. Av de drygt 25 mycket sakliga, intressanta och personliga presentationerna, uppfyller endast en kriteriet [förnamn efternamn] ÄR [någonting]. Resterande presenteras enligt den mer gängse formen [förnamn efternamn] [kommatecken] [beskrivning], och blir därmed inte identifierade av Blogipedia.
Risken, så som jag ser den, består i att Blogipedia kommer att fyllas huvudsakligen med vad människor tycker (vilket i och för sig kan ha ett betydande värde), men att de sakliga och faktabaserade presentationerna blir förhållandevis få. En annan risk är att vi, i takt med att fler lär sig hur Blogipedia fungerar, börjar anpassa våra beskrivningar därefter. Teoretiskt skulle det alltså kunna leda till märkliga, svårlästa och rent ut sagt tråkiga presentationer, där t.ex. ett företagsnamn eller en persons för- och efternamn inleder varje mening följt av "är".
Kanske borde alltså Ted Valentin fundera över om det kan finnas andra formler som kan användas för att identifiera sakligt innehåll kopplat till person-, företags- och varumärkesnamn samt företeelser. Jag har dock full respekt för komplexiteten i uppgiften, inte minst med tanke på att det också finns andra utmaningar att ta tag i. Joakim Jardenberg menar t.ex. att tjänstens nytta är avhängig om den kan ges en enkel och naturlig plats i bloggflödet. Digmar på dagensmedia.se påpekar att Blogipedia inte skiljer på olika personer med samma namn, vilket gör sökresulteten på vanligare namn minst sagt svajiga. Bloggen Opassande berör samma problematik genom att fundera över hur betydelsen av generiska ord skall klassas och sorteras – t.ex. "Bodströmssamhället" som dels är namnet på Thomas Bodströms blogg och dels ett förekommande epitet på kontrollsamhället. Och PR-konsulten Jerry Silfwer undrar hur viktningen av vad som är positivt, neutralt och negativt görs, medan jag funderar över vem som bedömer vad som är "fakta".
Innebär då det här att Blogipedia är en dålig idé? Absolut inte, tvärt om! (Det skall dock bli intressant att se om, och i så fall hur, första meningen i det här stycket dyker upp på Blogipedia.) Jag tycker att Teds idé är i grunden briljant, och det är därför jag skriver det här blogginlägget. Att på en plats kunna söka vad som tycks och tänks om någon eller något har ett stort värde, och då inte bara som personlig kuriosa och egotripp. För företag, varumärken och offentliga personer skulle Blogipedia kunna bli ett värdefullt verktyg för att t.ex. kartlägga befintliga associationer till namnet, men också spåra hur dessa associationer förändras över tid – t.ex. vid en ompositionering som den Sony Ericsson skall inleda i oktober. Alltså ett potentiellt ypperligt komplement till realtidsbevakningen som Twingly Channels erbjuder. Potentialen är alltså enorm. Men för att idén skall bli en tjänst med stort kommersiellt värde, tror jag som sagt att den behöver utvecklas en aning men också att den måste lanseras i en engelsk, global version.
I dagens skepnad är Blogipedia underhållande, på gränsen till hypnotiserande. Eller som Sofia Mirjamsdotter skriver på Bloggvärldsbloggen: "Väldigt rolig tjänst, man kan fastna länge i att söka och hitta, och det är inte bara personer som det tycks om. Testa en sökning på ord som 'kärlek' eller kanske 'bajs'."
Vilket leder oss till rubriken på det här inlägget.
Som den paradoxernas beskyddare jag är, skulle jag få stor personlig tillfredsställelse av att på Blogipedia få läsa att jag inte finns på Blogipedia. Men förmodligen blir påståendet klassat som "spam" (vilket det också borde), och därmed diskvalificerat. Jag får istället hoppas på det mycket hedrande omdömet som skrevs om The Brand-Man på bloggen Doktor Spinn, men som i skrivande stund tyvärr ännu inte dykt upp på Blogipedia.
Vad skulle du förresten vilja att det stod om dig?
_
Tillägg den 8 september, 2009: Nu är Micco Grönholm på Blogipedia. Eller hur skall jag tolka det här?
_
Någorlunda relaterade inlägg: