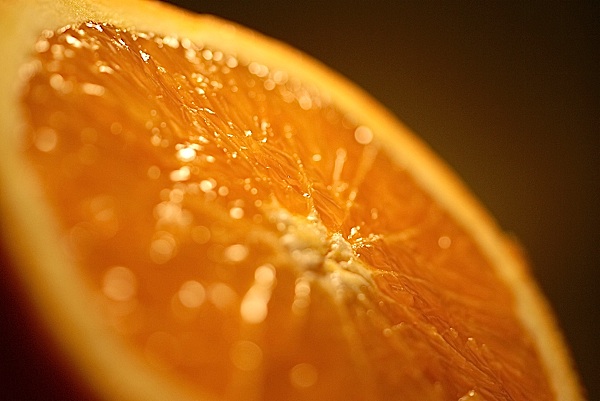 Ett varumärkes image* är summan av de förväntningar vi har på varumärket, gånger förväntningarnas emotionella styrka.
Låt mig ge några exempel, med mig som potentiell kund.
På varumärken jag inte känner till har jag inga förväntningar, och därmed heller inga emotionella kopplingar till förväntningarna. Alltså har dessa varumärken ingen image.
På varumärken som jag känner till har jag någon form av förväntningar, men många gånger saknar förväntningarna emotionell betydelse. Dessa varumärken har heller ingen (eller möjligen endast en svag) image.
Och på några få varumärken har jag förväntningar som känns mycket viktiga för mig. Det är dessa varumärken som har en stark image (förutsatt att de uppfyller mina förväntningar).
Delar av det här resonemanget har jag lånat av marknadsföringstänkaren Seth Godin (men också utvecklat i tidigare inlägg, bl.a. här).
Konklusionen är att om ett varumärke inte lyckas beröra människor på ett emotionellt plan, lyckas det heller inte skapa en stark image.
Ett varumärkes image är kort sagt helt beroende av känslor.
Vilket leder oss till apelsinklyftorna och professor Plutchik.
I boken EMOTION: A Psychoevolutionary Synthesis presenterar Robert Plutchik en spännande teori om känslors beskaffenhet och samband. Han utgår från följande 10 postulat:
1. The concept of emotion is applicable to all evolutionary levels and applies to animals as well as to humans.
2. Emotions have an evolutionary history and have evolved various forms of expression in different species.
3. Emotions served an adaptive role in helping organisms deal with key survival issues posed by the environment.
4. Despite different forms of expression of emotions in different species, there are certain common elements, or prototype patterns, that can be identified.
5. There is a small number of basic, primary, or prototype emotions.
6. All other emotions are mixed or derivative states; that is, they occur as combinations, mixtures, or compounds of the primary emotions.
7. Primary emotions are hypothethical constructs or idealized states whose properties and characteristics can only be inferred from various kinds of evidence.
8. Primary emotions can be conceptualized in terms of pairs of polar opposites.
9. All emotions vary in their degree of similarity to one another.
10. Each emotion can exist in varying degrees of intensity or levels of arousal.
Plutchik illusterar sin teori med en multidimensionell modell (Multidimensional Model of Emotion, MME), som på ett överskådligt och enkelt sätt systematiserar våra känslor, deras inbördes relationer och respektive styrka.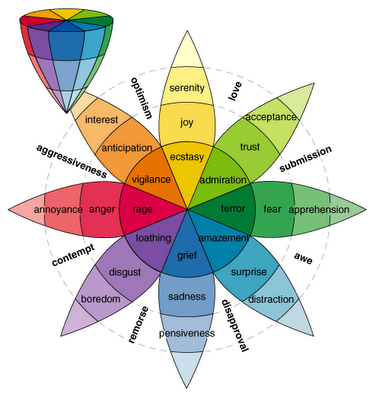 Hans s.k. apelsinklyftsmodell utgår från åtta basalkänslor (andra cirkeln inifrån): förtroende, rädsla, överraskning, ledsnad, avsky, ilska, förväntan och glädje. Var och en av dessa basalkänslor har en handfull mer eller mindre besläktade känslor, som dessutom upplevs starkare eller svagare. Till exempel är acceptens en svagare variant av förtroende och sorg en starkare variant av ledsnad.
När två av dessa känslor kombineras uppstår en s.k. dyad. Känner vi t.ex. glädje och förtroende uppstår kärlek, känner vi rädsla och avsky uppstår skam.
Enligt Plutchik kan alla känslor bildas genom antingen dyader eller s.k. triader (en kombination av tre känslor), bl.a. sentimentalitet (förtroende och ledsnad) eller oro (förväntan och rädsla).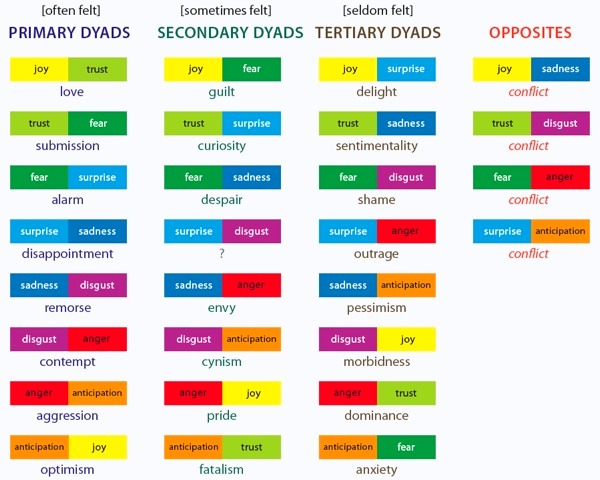 Vill du t.ex. koppla känslan förtjusning till ditt varumärke, måste du skapa glädje och överraskning. Och för att väcka nyfikenhet måste du kombinera överraskning med förtroende.
Enligt Plutchik kan vi m.a.o. genom att stimulera rätt kombination av basalkänslor väcka en helt annan och för varumärket mer gynnsam känsla.
Men betänk att känslor alltid uppstår i relation till något, någon eller några. Det är alltså i kombination med vår uppfattning om de sociala konsekvenserna som känslorna (och graden av deras positiva eller negativa laddning) avgör vad vi tänker (kognitionens innehåll) och hur vi tänker (kognitionsprocessen). Och det är dessa tankar som, grovt förenklat, i sin tur avgör hur vi agerar – t.ex. om vi väljer att rösta på ett visst parti eller köpa en produkt med ett visst varumärke.
Ladda ner en översikt över Plutchik's teori här (PDF). Studera den och fundera över om, och i så fall hur, den kan vara till nytta i varumärkesarbetet. Och dela gärna med dig av dina åsikter eller funderingar genom att kommentera det här inlägget.
* Varumärkesimage är en symbolisk konstruktion i människors medvetande som består av all information, alla erfarenheter, associationer, upplevelser, åsikter, känslor och attityder kopplade till en organisation, ett företag, en företeelse, en plats, en vara, tjänst eller idé.
_
Relaterat: