Gästinlägg av Jerry Silfwer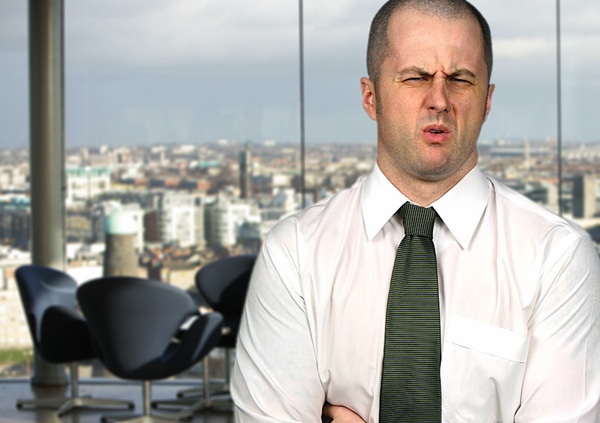 Varför ska vi skaffa en företagsblogg, frågar chefen. Måste jag skriva en massa personliga saker nu? Vem är intresserad av det? Och när ska jag hinna med det, hade du tänkt? Kan vi förresten räkna hem den tid vi lägger på det här… bloggandet?
Den som ansvarar för företagets webbkommunikation har all anledning att skruva på sig under chefens bombardemang av hårda men rättvisa frågor.
Få kommunikationsformer har blivit så stigmatiserade som företagsbloggen. Och det är nog bara e-posten som kan konkurrera i fråga om usel praktisk tillämpning; det är verkligen en grannlaga uppgift att hitta relevanta och engagerande företagsbloggar att inspireras av. Den stora majoriteten av företagsbloggar är riktigt usla.
Ändå har företagsbloggen seglat upp som en hygienfaktor, ett grundläggande måste. Många av oss minns hur det gick till när företagets hemsida – eller sajt, som vi säger i dag – blev en hygienfaktor. Visst hade vi kunnat säga saker i stil med att "webben är inte en prioriterad kanal för oss, så därför har vi valt att inte satsa på en hemsida i nuläget". Men hur länge hade det varit hållbart?
Efter en tid försvann allt motstånd mot att ha en hemsida med beskrivning av erbjudandet och kontaktuppgifter för företaget. Senare blev det givet att ha ett flöde med nyheter om det egna företaget, ibland ambitiöst samlat i ett eget pressrum på webben. Inga konstigheter. Och på samma sätt närmar vi oss nu en verklighet där bloggen har sin självklara plats på (eller någonstans i närheten av) den egna företagswebben.
Men om vi ur ett kommunikativt perspektiv tar temperaturen på den här utvecklingen, vad finner vi då?
Grafiskt har det hänt mycket med företagswebbarna under de senaste åren. De är ofta också välfyllda med information. Däremot saknas som regel människor av kött och blod. Fortfarande år 2010 är företagens webbplatser i mångt och mycket digitala anslagstavlor på vilka endast de som är betrodda av företaget får posta (själlös) information.
De sociala pressrummen är fortfarande få, men de har hjälpt utvecklingen på traven. Mer av interaktion, mer av transparens. Mer multimedia, ett omodernt begrepp förvisso, men relevant för många företag som har fastnat i att huvudsakligen kommunicera via skriven text.
Men, pressrummen är anpassade efter den journalistiska medielogiken. Och journalistisk medielogik stavas "nyheter". Detta begränsar pressrummen, då mycket av det som är intressant på ett företag knappast kan betecknas som nyheter i ordets rätta bemärkelse, och därför inte hittar sin plats i företagets digitala nyhetsflöde.
Addera företagsbloggen i mixen och katastrofen kan tyckas total. Innehållet på företagssajten är stelt, själlöst och nerlusat med corporate-bullshit-språk; pressrummet är fyllt till bredden med företagsnyheter av inifrån-och-ut-karaktär; företagsbloggen är i bästa fall en halvdöd reklammegafon med grava identitetsproblem. Kunder och andra intressenter surfar in för att hitta adresser och telefonnummer, innan de kastar sig ut med huvudet före från den syrefattiga sajten.
Det är m.a.o. inte svårt att förstå chefens reaktion. "Jaha, ska vi ha en blogg nu också?"
Vi behöver stanna upp och backa bandet. Vad är egentligen en företagsblogg?
I grunden kan bloggen tillskrivas två huvudsakliga karaktärsdrag och det är att a) den är kronologisk och b) möjlig att kommentera. Ta bort den kronologiska publiceringen och bloggen förvandlas till en portal. Ta bort kommentarsfunktionen och bloggen förvandlas till ett flöde för artiklar och företagsrelaterad information.
Att bloggen är kronologisk innebär en revolution för företagskommunikationen på webben. Den kronologiska publiceringen skapar en plats på sajten där det inte nödvändigtvis är det viktigaste som ligger högst upp. Istället staplas hela tiden det senaste ovanpå det näst senaste, vilket resulterar i ett dynamiskt innehåll. Och dynamiskt innehåll har helt andra förutsättningar att attrahera inlänkar, rankas högre i sökmotorer och skapa engagemang hos nyfikna besökare.
Det är inte ovanligt att företagsbloggen – även om den bara är halvhyfsad – går om sajtens förstasida i fråga om besök och annan typ av interaktion.
Även kommentarsfunktionen revolutionerar. Att öppna för kommentarer tvingar fram en annan tonalitet hos företagen. Kommunikationen behöver bli mänskligare och mer direkt. Det är svårt för företaget att låta bli att bemöta kommentarer på den egna bloggen; det ser helt enkelt ganska fegt ut att inte göra det. Och saknas kommentarsmöjlighet, kommer synpunkterna att i alla fall hamna någonstans, mest troligt på plattformar som företaget inte alls har kontroll över.
I övrigt är företagsbloggen inte särskilt märkvärdig alls. Det är formgivning, programmering och webbpublicering rätt och slätt.
Och det är här det går fel.
Många satsningar på företagsbloggar handlar om hur bloggen ska se ut, hur den ska fungera och om vem som ska skriva vad och när – i praktiken samma frågeställningar som finns kring företagets pressrum på webben. Men när det gäller företagsbloggens huvudsakliga förtjänster, den kronologiska publiceringen och kommentarsfunktionen, är det sällan ens en idé, och ännu mindre någon form av strategi, kring hur det ska fungera.
För att utnyttja kraften hos den kronologiska publiceringen gäller det att hänga med i samtiden och i nischen. Om någon skriver en webbartikel om företagets produkter, tjänster eller varumärke, då gäller det att vara med och kommentera på den egna bloggen. Hylla och lyft fram företagets ambassadörer. Eller set the record straight med belackarna.
Plötsligt börjar bloggen att handla om företagets värld istället för att handla om företagsrelaterad information. Om Facebook har lärt oss något så är det att vi är extremt nyfikna på vad andra människor har för sig och hur de interagerar med varandra. En bra företagsblogg bygger ett universum kring sig, inte bara av sociala satelliter som LinkedIn och Slideshare, utan även av människor i form av prenumeranter och fans.
Genom att vara kronologin trogen förvandlas företagsbloggen till att handla om dess aktuella kommunikativa sfär. Bloggen ger på så sätt företagssajten liv, där en ständig växelverkan av sociala objekt (information som byggstenar i relationer) skapar ett community.
Kommentarsfunktionen har i sin tur inte tagits på tillräckligt stort allvar. Sällan finns det en strukturerad organisation kring att delta i företagsrelevanta konversationer. Sällan finns policys som särskiljer det individuella från det officiella ansvaret. Sällan har det förekommit sociala medieträningar i att handskas med den nya transparensen. Och allt för ofta landar uppdraget i knäet på marknadsfunktionen, när ansvaret för att interagera med omvärlden i realiteten faller tungt på alla i företaget.
I förlängningen handlar kommentarsfunktionen om så mycket mer än bara kommentarer. Den handlar om det transparenta företaget, om att gå från hur olika typer av digitala reaktioner från omvärlden ska hanteras, till att skapa strategier för hur önskade digitala reaktioner faktiskt ska kunna uppmuntras. Och om att skapa program för hur digitala talespersoner ska byggas (ja, det tar tid!), hur communityt kring webbplatserna ska byggas upp (ja, det tar tid!) och hur omvärldens reaktioner på bästa sätt ska kunna leta sig djupt in i organisation – till allt från lednings- och styrelsebeslut till rekrytering och produktutvecklingsprocesser.
Stora ord till förmån för företagsbloggandet, jag vet. Till detta hör att jag i vanliga fall förordar att företag tar små steg ut på den sociala webben, myrsteg, och att dessa steg ska tas med örat mot rälsen och megafonen avstängd. Men när det gäller företagsbloggandet tvekar jag inte en sekund att slå ett slag för att alla företag borde ha en blogg på sin webbplats.
Konkurrensen om kundernas uppmärksamhet ökar drastiskt och förväntningarna på ett personligt bemötande även på webben börjar märkas allt tydligare. Så trots att företagsbloggandet på många håll ännu inte funnit sin form, visar prognoser på en fortsatt kraftig ökning.
Om jag avslutningsvis får lämna ett bestående avtryck i diskussionen om företagsbloggandet, låt det då bli detta:
Att blogga är en färdighet och precis som andra färdigheter gäller den klassiska devisen övning ger färdighet. En del medarbetare är social media naturals och fattar galoppen snabbt, men alla kan lära sig att blogga med rätt uppmuntran, träning och självklart en god portion praktisk erfarenhet. Grundprincipen är enkel, ju mer du ger generöst av ditt eget engagemang, desto mer engagemang får du tillbaka. I den ordningen.
Det är förresten det du ska säga till din chef när han frågar varför företaget ska ha en blogg.
Jerry Silfwer är seniorkonsult på Springtime i Stockholm och utbildad inom PR och lingvistik. Han har grundat branschforumet PR of Sweden och är medredaktör för mediebloggen Same Same But Different. På den egna bloggen Doktor Spinn skriver han om strategisk kommunikation i det digitala medielandskapet.
Jerry har en stor passion för det kommunikativa hantverket, men strävar alltid efter att utgå från företagsledningens perspektiv.
_
Relaterade inlägg: