Favorit i Repris 34 | Inlägget publicerades den 30 januari 2009 | 18 kommentarer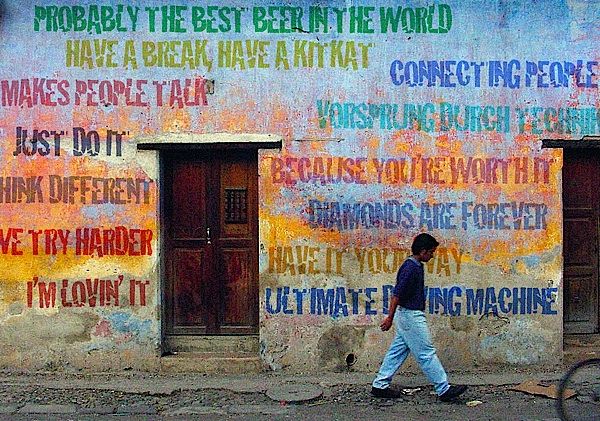 Minns du Canons slogan "Kan nån, kan Canon"?
Trots att det snart är 20 år sedan den användes minns många den än idag. Precis som IKEAs "Inte för de rika – men för de kloka".
Vilka slogans minns du?
Förmodligen kan du koppla ihop nedanstående slogans med rätt varumärke. Men vilket år tror du att respektive slogan lanserades? (Rätt svar hittar du i slutet på inlägget.)
Think different
Just do it
Don't leave home without it
Probably the best beer in the world
Because I'm worth it
Jag erkänner villigt att jag länge ansåg slogans vara något töntigt, något som förringade varumärket eller företaget. Kanske berodde det på att jag i början av min reklambana ofta fick höra kommentaren "Jaså, du jobbar med reklam; då skriver du slogans och sånt". Jag tyckte då att det förringade mitt arbete som copywriter.
Idag vet jag bättre. En slogan som fastnar i hjärnan är förmodligen det bästa vapnet i reklamens positioneringsarsenal. Och med "fastnar" syftar jag inte på att människor bara minns en slogan, utan att den etsas in – "hårdkodas" – i minnescellerna. För när det har skett, finns den nämligen kvar där för alltid.
Låt mig ge ett exempel. Vi tror att den franska revolutionen enades kring stridsropet "Liberté, égalité, fraternité". Faktum är att det vid tiden för revolutionen fanns ett stort antal olika stridsrop. Det var inte förrän i mitten på 1800-talet, alltså långt efter revolutionen, som "Liberté, égalité, fraternité" blev en officiell slogan. Det var det enda stridsropet som fastnade. Därför är det också den enda slogan vi idag förknippar med franska revolutionen. (Ordet slogan härstammar f.ö. från Gaelliskans sluagh-ghairm, som betyder armé eller strid och rop eller skrik – alltså "stridsrop".)
Gerry Spence, den kanske mest framgångsrike brottmålsadvokaten någonsin, lär ska ha fått frågan hur det kom sig att han inte förlorat en enda rättegång på 41 år. "Jag bestämmer mig inte för att ta mig an en klient förrän jag formulerat ett slagord som jag kan upprepa under hela rättegången, och som jag kan sammanfatta min slutplädering med" påstås han ha svarat. Han hade lärt sig vilket genomslag en stark slogan kan ha. En slogan som sammanfattar hela storyn i ett enda huvudargument.
Vid ett av hans omtalade fall berättade han en historia om en man som köpte och tog hem ett lejon. Djuret rymde och anföll grannen, som skadades mycket svårt. Den storyn symboliserade, menade han, vad företaget Kerr-McGee gjort sig skyldigt till genom att lagra farliga kemikalier på sin mark. "If the lion gets away, Kerr-McGee must pay". Och så blev det. Samma strategi användes f.ö. av Johnnie Cochran i O.J. Simpson-fallet: "If it doesn't fit, you must acquit".
Den här formen av "klistriga" slogans bygger på alliteration – t.ex. Lexus "The passionate pursuit of perfection". En annan klistrig form är dubbelbetydelser. Min absoluta favorit i kategorin är den slogan som Saatchi & Saatchi kläckte för Conservative Party inför det brittiska valet 1979: "Labour isn't working". Margaret Thatcher vann valet. Och så har vi Fresh Direct, ett amerikanskt företag som levererar mat hem till dörren: "Our food is fresh. Our customers are spoiled". En tredje form av slogans är motsatsalternativ. "To be or not to be: that is the question" är förmodligen det mest kända exemplet inom litteraturen. Hotellkedjan Holiday Inn använde länge "The best surprise is no surprise".
Men den sannolikt viktigaste framgångsfaktorn är repetition och uthållighet. Neuroforskarna Giep Franzen och Margot Bouwman menar t.ex. att hårdkodning i hjärnan tar minst två år av frekvent repeterad stimuli. Och i dagens mediebrus, där repetitionen riskerar att drunkna i alla andra budskap, krävs förmodligen betydligt längre tid. Dessutom: ju mer sällan du repeterar, desto längre tid tar det.
Alltså fastnar heller inte de slogans som byts ut i samma takt som reklambyrån eller marknadschefen byts ut.
Ha gärna dessa råd och exempel i minnet när du ska formulera en slogan. Men glöm inte att den måste ha en enkel och tydlig koppling till produktens idé, viktigaste nytta eller egenskap. Och att den måste vara mer emotionell än rationell samt skriven på målgruppens språk. Annars accepteras den helt enkelt inte av målgruppens hjärnor.
Läs även om hur Barack Obama framgångsrikt utnyttjade slagordet "change" under presidentvalskampanjen.
Läs också den fristående fortsättningen på det här inlägget: Hjärnan, varumärket och reklamen.
Think different, Apple, 1997 | Just do it, Nike, 1988 | Don't leave home without it, American Express, 1975 | Probably the best beer in the world, Carlsberg, 1973 | Because I'm worth it, L'Oreal, 1967 | Inspiration finns även att hämta i Advertising Slogan Hall of Fame.
_
Relaterat:

Om du vill kan du utbyta tankar och idéer med Micco på Twitter