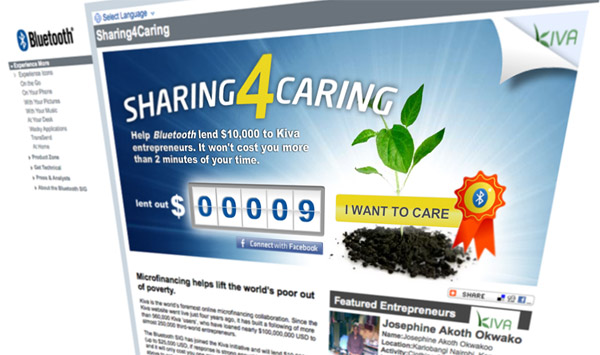 Jag föreslår att vi alla tar och investerar ett par minuter på att så snart som möjligt besöka Bluetooth Sharing4Caring. Den ynka tiden kan nämligen göra stor skillnad för många människor.
Bluetooth SIG har bestämt sig för att låna ut pengar till fattiga entreprenörer i tredje världen. Men för att aktivera lånen, vill de att vi deltar genom att besöka kampanjsajten Sharing4Caring.
På sajten finns en knapp "I WANT TO CARE". Så snart du klickat på den, och kopplat upp dig mot ditt konto på Facebook, lånar Bluetooth ut $1 till mikrolånorganisationen Kiva i ditt ställe.
Målet är att låna ut $10.000 på 10 dagar. Om målet uppnås, adderas ytterligare $15.000 – alltså totalt $25.000 (ca 175 000 kronor).
Och när pengarna har återbetalats av låntagarna, kommer Bluetooth SIG att donera hela summan till Kiva.
Syftet med kampanjen är att uppmärksamma Bluetooth och det faktum att teknologin i sig handlar om att (kostnadsfritt) kunna dela med sig – av information, musik, bilder, m.m. Dessutom skulle Bluetooth SIG (en intresseorganisation med drygt 14.000 medlemmar vars syfte är att förvalta och utveckla teknologin och varumärket) aldrig ha funnits utan en kultur präglad av sharing.
Mike Foley, Executive Director på Bluetooth SIG:
Sharing is at the very center of everything we do. We share intellectual property, best practices, creative ideas – everything that enables us to take the next step in further enhancing Bluetooth technology. We decided to take this one step further and show how sharing can improve lives of people all over the world, if we put our will and energy to it. That's also why, after careful selection, we decided that Kiva, with its strong focus on sharing, was the best fit for us in this endeavor.
Som konsult för Bluetooth SIG är jag mycket stolt över den här insatsen. Den gör nytta. På riktigt. För många.
Och jag hoppas att också du vill hjälpa till. Ett par minuter är allt som krävs – kortare tid än det har tagit dig att läsa det här inlägget.
Bluetooth Sharing4Caring
Kiva
Bluetooth SIG
_
Relaterade inlägg: